Meet on clothes! Fashionistas and fashionistas of Polish literature
Juliusz Slovak – the first Polish dandy
"In the morning I'm a writer – I write, rule, rewrite, and in the evening, at half past nine, I turn into a dandy, and I must admit that I like it," wrote the mother of Paris, the outstanding Polish poet Juliusz Slovacki in 1832. The genius of Polish romanticism knew how and liked to dress well, giving great importance to appearance, image, and manners. The most famous, almost legendary details of his wardrobe are light yellow gloves and a white blouse with a turn-down collar, as if revived in the XX century in the form of the writer Yanush Glovatsky's shirt that was always unbuttoned on his chest. In Parisian high-class salons, they looked around at Slovak. The attention of the "cream of society", especially the ladies, could not fail to attract his white vest with bright flower buds embroidered on it, white harem pants, like gloves and a cane with a gold-plated knob. Representatives of bohemia loved to wear vests of unusual colors in those days – most likely, Slovacki "spied" on the author of "Captain Fracassus", the French poet Teofil Gauthier, who appeared at the premiere of Hugo's play "Hernani" in a defiantly bright red satin vest and on the next day woke up famous. Over time, Slovacki changed his own style a little – preferred black color, continuing, however, to dress immaculately elegantly and sew clothes from good tailors. Here is how his contemporary, translator Anthony Odynets described the poet: "He was dressed in a black silk caftan, intercepted by a varnished belt with shiny steel buckles. A wide turn-down collar exposed a delicate white neck, on which long black locks fell. Big dark eyes glowed like embers. " On cold days, the poet wore a navy coat with a high collar on beaver fur, and in the spring and autumn he wore a long, almost to five-piece coat of red-brick color. Slovatsky's tie was always tied somewhat carelessly – and only a few knew that this carelessness was achieved by lengthy exercises in front of the mirror. What was the goal of the Slovak, dressing "like a dandy of London"? There was more to this than aesthetics and a desire to follow bohemian fashion. The Slovak wanted to destroy the stereotype that annoyed him – the notion that was ingrained among Parisian fashionistas about the Polish emigrant as an untidy, deserted man who waved his hand in despair. A walking illustration of this stereotype, Slovacki considered his longtime rival Adam Mickiewicz and did not spare poison, telling how the author of "Pan Tadeusz" was once not allowed into the gambling house, mistaking him for a footman. The Slovak did not like the fact that the townsfolk consider the poets to be sluts – nothing more than creative jealousy and ideological disagreements, can not explain the stinging passage in one of Slovatsky's letters: "You can't imagine how Mickiewicz looked in a shirt with a crumpled collar and a greasy tailcoat ".
Futuristic Dendism
"A well-chosen buttonhole is the only link between art and nature," said Oscar Wilde, who did not appear in public without a green-colored clove in his buttonhole. It soon turned out that the boutonniere could serve as a manifesto of a new aesthetic. Two decades after the death of the author of "Portrait of Dorian Gray," the Polish futurist poet Bruno Jasensky, a master who gave out "slaps to the public taste," began to wear a toothbrush in his buttonhole instead of a flower. And his debut collection of poems, published in 1921, was called "But w butonierce" ("The shoe in the buttonhole"). In addition to the futuristic "boutonniere", an integral part of the poet's image was the famous monocle, in which Yasensky at poetry evenings examined the audience, looking for pretty women. According to his friend, futurist poet Anatol Stern, Yasensky had poor eyesight and he used a monocle instead of glasses, however, this part of the wardrobe generated a lot of different interpretations, it was seen as a deliberate provocation. His ties of flashy colors looked no less provocative, the combination of colors in clothes teased: the poet put on a black tie with a brown shirt, and fiery red – with a shirt of pale blue. Some spectators, however, were not in a fever of lust, but of indignation. In a note about an evening of Polish futurists, one conservative journalist called Yasensky "a scarecrow mocking his own physiognomy of a half-crazy clown." But the negative reaction of the critics only added fuel to the fire – with excessive elegance Yasensky teased the townsfolk, wanting to get them crazy, and he achieved his goals: the performances of Polish futurists regularly ended in scandals and even fights.
Clothing as a form of protest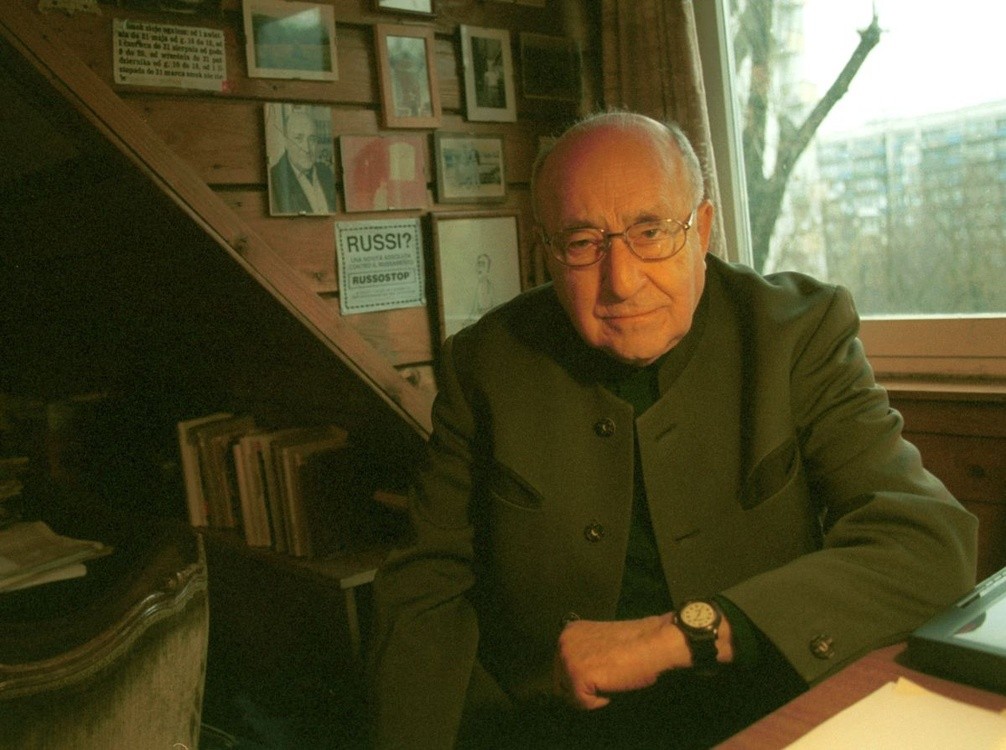 Around the same (1949) years, the first dudes appeared in Poland – they were called "bikiniarze" here (this word appeared in connection with bright ties with palm trees from Bikini Island popular among Polish "dudes"). The well-known writer, publicist and translator of Russian literature, Jerzy Pomianowski, too, "styled", flaunting a bright red jacket. If police officers or overly vigilant citizens stopped him to make a comment about the defiant, Pomianovsky with an innocent mine retorted: "Are you against the red?" As a rule, the opponent had nothing to cover, and Pomyanovsky calmly continued on his way.
Leopold Tyrmand, dude from Warsaw
The original style icon of those years was the author of the cult novel "Zły", a popularizer of jazz, dandy and playboy, writer Leopold Tyrmand. He wore trousers so narrow that it seemed that to put them on, you need to use a spoon for shoes. The writer's shoes were always polished to a mirror shine, which in the conditions of post-war Warsaw, a city of dirty and dusty, required considerable efforts. A beautifully tailored tweed jacket sat on it like a glove, and his tie was always tied neatly. The writer was distinguished from the majority of "dudes" by impeccable manners. In addition, there was nothing deliberate in his appearance, with the exception of one small but important detail that had already become a legend. We are talking about the famous multi-colored socks of Leopold Tyrmand. Socks in red-green-orange-black stripes Tyrmanda in 1949 brought from Moscow, the Polish cartoonist Eric Lipinsky. The writer joked that, despite the insane colors, socks are impeccable from an ideological point of view: they were bought in the capital of the country of victorious socialism. He even carried a check from a Moscow store – for every fireman. In socialist Poland, Tyrmand made the impression of an alien – the gloomy background of the time did not at all match his festive appearance. He was interested in sports, fashion and jazz, was not like everyone else, and therefore enjoyed great success with women, although he did not have a "model" appearance. Instead, there was charisma and style. Tyrmanda's dendism not only paved a reliable path for girl's hearts, but was also a form of participation in politics – it seemed to the writer that any other form of protest in the NDP does not make sense.
White sheepskin coat Mareka Hlasko
Marek Hlasko, the author of The First Step in the Clouds, Lombard of Illusions, and Eighth Day of the Week, a bully and a tramp, was called the Polish James Dean. He really looked like the star of the cult film Rebel Without a Cause, and he was also a rebel (and there were plenty of reasons for the rebellion of a young writer in post-war Poland), so he created his image with an eye on the cinematic "bad good guys" ". Hlasko loved the "military" style, which was very popular in the NDP during the thaw – just remember Zbigniew Tsybulsky in the film "Ash and Diamond": his hero wears an American military jacket M-43 (it was called "emka" in Poland). Marek Hlasko also had the exact same cotton jacket – olive-colored, about half the length of the thigh, straight, spacious, with many pockets.
However, the most famous wardrobe item of Marek Hlasko is his luxurious white sheepskin coat, which he obtained by some miracle, having bought a lot of money from a certain border guard (according to another version – from a Soviet soldier). No one in all of Warsaw had such an outfit, and the fashion for sheepskin coats in the intellectual milieu appeared ten years later, in the late 60s, after the release of the Wajda movie "Everything for Sale", so Hlasko, in fact, was discoverer of this style. The writer took the white sheepskin coat with him to emigration, but in Israel, where Hlasko ended up, such clothes were absolutely out of place, and he sent it as a gift to his ex-bride Agnieszka Osetskaya, accompanying the parcel with a laconic note: "Wear my sheepskin coat and be in her beautiful. "
God jeans
The legendary Polish poet, prose writer and songwriter Edward Stakhura, whose veneration in Poland in the 80s was akin to a religious cult, as if knocked denim with a magic lining that created an aura of semi-forbidden free-wheeling and hip romance around the poet. The denim suit was Stakhura's daily "uniform": a short indigo denim jacket, a blue denim shirt and Lee brand jeans — Stakhura did not recognize any other firms, categorically rejecting "levays" and "wranglers," not to mention less prestigious brands . The literary legend portrays Edward Stahur as a romantic tramp, spending the night in an open field or under a bridge, spitting on comfort and conventions. But this, as usual, is only part of the truth. Yes, Stakhura more than once happened to sleep in the open air, but this does not mean at all that he was indifferent to how he looked and what he was dressed in. The poet carefully selected the jeans and generally paid a lot of attention to his style. Fans did not in vain call Stachura "St. Francis in jeans." The image of Edward Stakhura was so strongly connected with the jeans style that in 1982, three years after the tragic death of the writer, the publishing house "Czytelnik", which was preparing the publication of a five-volume book of his poems, prose, songs and translations, decided to release this collected works in covers from real denim. Alas, this original plan was never realized – the publisher purchased the material, but the roof collapsed inappropriately in the main workshop of the only factory in Poland that could fulfill this complex order. The publishing house had to confine itself to a photo cover imitating shabby dark blue denim. Among the fans of Stakhura, this "five-book" was called the "denim Bible".
The secret of elegance by Jacek Denel
It is believed that real dandies, such as George Brammel and Charles Baudelaire, remained in the distant XIX century. However, anyone who has seen the Polish poet and prose writer Jacek Denel will not agree with this statement. Denel is probably the most stylish of all modern Polish writers. The author of Lyalya and Saturn does not try to thoughtlessly copy the great dandies of the past, but dresses and keeps himself as if he is one of them, brought into our era by an unknown force that canceled time. At the same time, the shadow of posturing is not felt in the appearance of Denel, he looks natural. The dates of a hundred years ago look just as natural under some of his poems – a technique that fits a poem in several dimensions at once. Jacek Denel's wardrobe is dominated by things associated with the Victorian era or the interwar twentieth anniversary: ​​tweed jackets, plaid vests and trousers, intricate frock coats, stand-up collars, butterflies and ties with impressive knots. He prefers shirts to t-shirts, suits jackets to sweatshirts, adores beautiful coats. The main thing in his style is individuality, since the writer does not identify himself with any social group or subculture. But in fact, the secret of extravagant elegance of Jacek Denel is simple. The main thing is to intrigue with an interesting detail or a correctly selected accessory. It can be cufflinks, suspenders, a pocket watch chain, a cane, a boater hat, an unusual tie knot … Thanks to such trifles, the appearance will be memorable and original. And if we are talking about literature, it is attention to detail, nuances and midtones, the ability to understand the language of symbols and secret signs of the universe that distinguishes the writer.